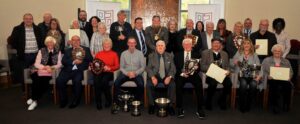 East Ayrshire Council Garden Competition 2023
 Our Chairperson Davey Leggat and Executive Committee member Dolores Leggat attended the recent East Ayrshire council Garden Competition Prize Giving on 24th October 2023. here is their thoughts…
It was a real pleasure to be invited to attend the awards ceremony for this year's garden competition which took place on 24/10/23 at The Burns Memorial building at Kay Park in Kilmarnock.
Dolores and I represented the FED and were very pleasantly surprised to accept a lovely gift of a bouquet of flowers on behalf of the FED, gifted to us in thanks for our support and assistance with this year's event.
In this world of often heartbreaking, gloomy news, it was great to be part of an event which celebrates the effort and achievements of those with very green fingers, all of whom can bring enjoyment to lots of people by keeping their gardens and community spaces in such excellent condition.
As judges, it was very difficult to pick the winners, as they are all to be commended for their efforts in looking after their gardens.
Kevin the Customer Liaison Officer had fun compering the day's celebrations, after having spent the 2 days before polishing all the cups before presenting them!
A happy day was had by all, and we look forward to next year's competition!!
David and Dolores.